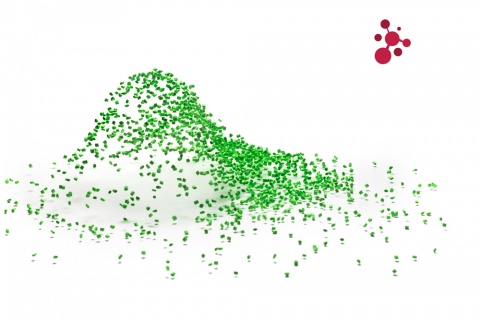 Description
PVDF is a semi-crystalline polymer obtained from the polymerization of vinylidene fluoride, which, thanks to its composition made up of more than 50% Fluorine, combines excellent anti-adhesion and abrasion properties with modifiable mechanics, ranging from very flexible to rigid, and exceptional chemical resistance. It is an extremely pure polymer that does not need stabilizers, plasticizers, lubricants or flame retardants. PVDF is a polymer that can be adapted to the demands of the user and is available on the market in both flexible and rigid grades, the latter of which has a high modulus and tensile strength. Furthermore, PVDF maintains its characteristics within a wide range of temperatures. It can be found in various forms: foams, granules, powders, as well as coatings, thin, flexible and transparent films or even filaments and hoses. It has optimal creep resistance and is able to maintain such resistance under low loads at up to 140 °C. It also exhibits optimal thermal stability even for extended exposure at 150°C. Among the fluoropolymers, PVDF is the mostly easily transformable by normal technologies, which is the reason why it is found in all fields of application, from painting to substitutions for structural components. It has excellent abrasion resistance and is intrinsically fireproof. Among PVDF's numerous properties, its resistance to ultraviolet radiation stands out; even after several years of exposure, its characteristics remain unimpaired by UV rays. PVDF offers excellent resistance against oxidation from ozone exposure. The crown jewel of this material is its resistance to nuclear radiation, which, in combination with its chemical resistance, makes it an optimal component in nuclear cleanup systems.
Discover more about PVDF
+
More info
COMMON NAME
PVDF (Polyvinylidene fluoride)
SYNTHESIS
Polymer obtained from the polymerization of vinylidene fluoride in emulsion or suspension
STRUCTURE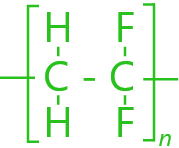 PROPERTIES
Dimensional stability

Workability

Excellent resistance to wear and abrasion

Extreme purity

Flame resistance UL 94 V-0

Limiting oxygen index (LOI) above 40

Low smoke opacity

Chemical resistance to numerous aggressive substances

Optimal resistance to UV light and atmospheric agents

Optimal creep resistance

Optimal resistance at low temperatures

Good resistance at high temperatures

Adjustable mechanical properties according to the application

Colorability
Show less
-
Typologies
The heart of our production is extrusion and with this process we generate wounded linear tubes or straight cut pieces of tube. With further processing, we produce other types of products and we finally combine accessories and other items to complete the range.
Single, flexible, non-thermoformed tube, wrapped in coils of various lengths.
PRO:
small footprint;
long distances seamless.
VERSUS:
elastic memory of the winding;
tolerance on the cut of +/- 2% of the length.