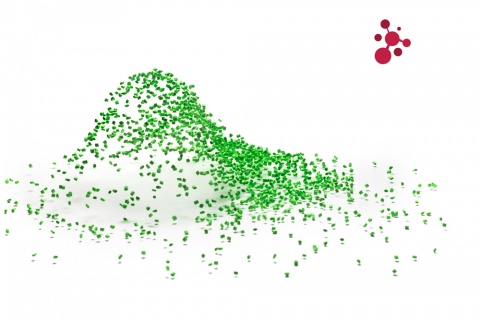 Description
PFA is a completely fluorinated copolymer that has small branches, which vary according to its copolymer, and thermomechanical properties that are based on the type and number of its lateral chains. As a guideline, a higher number of lateral chains corresponds to a lower stability at high temperatures as well as a lower melting point and creep resistance, but greater flexibility and resilience of the material. A variable that allows one to adjust some characteristics of this polymer is the molecular weight: by playing with this, one can have better workability, or lower viscosity of the material, which goes, however, to the detriment of its mechanical properties and resistance. PFA combines the conventional techniques of thermoplastic resin processing (extrusion, injection molding, etc.) with the exceptional properties of PTFE. PFA is the only thermoplastic polymer that can be processed in the melted state and can compete with the work temperature range of PTFE, making it suitable for use in both high and low temperature conditions and with chemically aggressive substances. A typical property of the fluoropolymers is resistance to aggressive chemical agents, even to strong oxidants (ex. Ozone), that unites with resistance to atmospheric agents and sunlight. PFA is a pure polymer that does not need stabilizers, plasticizers, lubricants, or flame retardants. It also exhibits optimal anti-adhesion properties to almost all glues and varnishes. In commerce one can find it in various forms, such as granules for the production of prophylactics or even as aqueous dispersions for coatings and impregnation.
Discover more about PFA
+
More info
SYNTHESIS
Polymer obtained by the copolymerization of TFE (tetrafluoroethylene) and a smaller quantity of either PAVE (Perfluoro alkyl vinyl ether), PMVE (Perfluoro methyl vinyl ether), PEVE (perfluoro ethyl vinyl ether), or PPVE perfluoro propyl vinyl ether) in a halogenated solvent.
STRUCTURE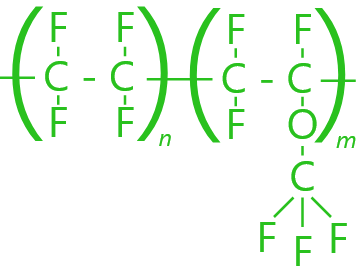 PROPERTIES
Dimensional stability

Excellent resistance to wear and abrasion

Optimal anti-adhesion properties

Stress-cracking resistance

Excellent flex-life

Flame resistance UL 94 V-0

Limiting oxygen index (LOI) above 95

Optimal transparency

Chemical resistance to numerous aggressive substances

Optimal resistance to UV light and atmospheric agents

Optimal resistance at low temperatures

Optimal resistance at high temperatures
Show less
-
Typologies
The heart of our production is extrusion and with this process we generate wounded linear tubes or straight cut pieces of tube. With further processing, we produce other types of products and we finally combine accessories and other items to complete the range.
Single, flexible, non-thermoformed tube, wrapped in coils of various lengths.
PRO:
small footprint;
long distances seamless.
VERSUS:
elastic memory of the winding;
tolerance on the cut of +/- 2% of the length.