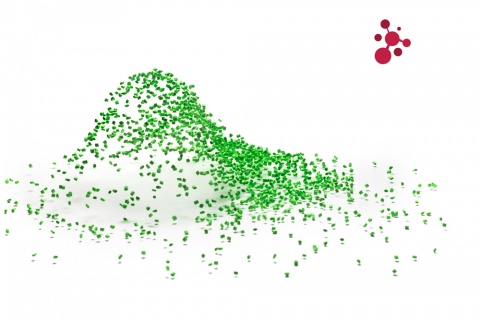 Description
FEP exhibits exceptional thermal properties, electrical properties, and chemical resistance. These characteristics are due to the complete substitution of hydrogen atoms with fluorine atoms in the ethylene and polypropylene chain, and the extremely strong bond that is created between them. It is a pure polymer that does not need stabilizers, plasticizers, lubricants, or flame retardants. In commerce, the grades differ primarily according to its molecular weight: by playing with this variable one can have better workability or, rather, better processing speeds; however, this goes to the detriment of its mechanical properties and stress-cracking resistance. Conversely, no modifications are made regarding chemical and electrical resistance and the service temperature of use always stays around 200°C. FEP is also available on the market in the form of aqueous dispersions, which are used for coating and impregnation. FEP is the most notable fluoropolymer when there is a request for a material that is resistant both to highly corrosive substances and to stress-cracking. It is resistant to almost all chemicals, with the exception of the alkali metals in their elemental form, such as sodium, potassium, and lithium (melted or in a solution), from chlorine trifluoride (ClF3) and fluorine gas (F2), and 80% solutions of NaOH or KOH in combination with elevated temperatures and pressures. Additionally, it exhibits optimal anti-adhesion properties to almost all glues and varnishes.
Discover more about FEP
+
More info
COMMON NAME
FEP (fluorinated ethylene propylene copolymer)
SYNTHESIS
Polymer derived from the copolymerization of TFE (tetrafluoroethylene) and HFP (hexafluoropropylene) in an aqueous medium.
STRUCTURE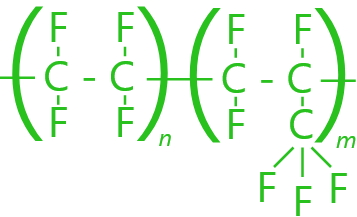 PROPERTIES
Dimensional stability

Excellent resistance to wear and abrasion

Optimal anti-adhesion properties

Stress-cracking resistance

Flame resistance UL 94 V-0

Limiting oxygen index (LOI) above 95

Optimal transparency

Chemical resistance to numerous aggressive substances

Optimal resistance to UV light and atmospheric agents

Optimal flex-life

Optimal resistance at low temperatures

Good resistance at high temperatures
Show less
-
Typologies
The heart of our production is extrusion and with this process we generate wounded linear tubes or straight cut pieces of tube. With further processing, we produce other types of products and we finally combine accessories and other items to complete the range.
Single, flexible, non-thermoformed tube, wrapped in coils of various lengths.
PRO:
small footprint;
long distances seamless.
VERSUS:
elastic memory of the winding;
tolerance on the cut of +/- 2% of the length.