Immagine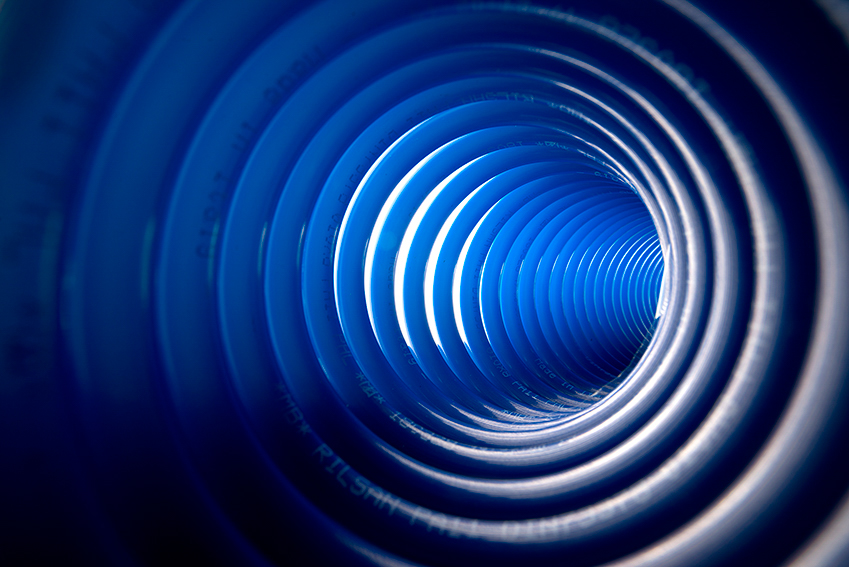 RILSAN® PA 11 PHL SPIRAL HOSE
Descrizione
Flexible spiral hose in Rilsan® PA 11 PHL of vegetable origin. Excellent working memory and abrasion resistance.
Features
Caratteristiche
Among the polyamides, for the production of standard spirals, the PA 11 was chosen for its surprising elastic memory, as well as exceptional flexibility, which guarantee high performance and longevity to the product. The PA 11 PHL Rilsan brand® is produced from renewable sources and is the preferred solution of those looking for the best among polyamides, with an eye to nature.
Grafico caratteristiche
Low temperature resistance
8
High temperature resistance
6.5
Dimensional stability
8.5
On demand
Su richiesta
We make spirals and preformed to design of all kinds, even with electrical cables.
Part number
Diametro int (Øi)
Diametro est (Øe)
Spessore
Pressione di esercizio (23°C)
rgb
metri lineari
metri lavoro
lunghezza a riposo
N° spire
Codolo A
Codolo B
Ø avvolgimento spirale
Ø esterno spirale
SR18X22X60
SR2X4X10
2 mm
4 mm
1 mm
44 BAR
10 m
6.5 m
395 mm
94 N
0 mm
0 mm
30 mm
28 mm
SR2X4X20
2 mm
4 mm
1 mm
44 BAR
20 m
13 m
791 mm
188 N
0 mm
0 mm
30 mm
38 mm
SR2X4X25
2 mm
4 mm
1 mm
44 BAR
25 m
16.5 m
989 mm
235 N
0 mm
0 mm
30 mm
38 mm
SR2.5X4X2.5C
2.5 mm
4 mm
0.75 mm
30 BAR
2.5 m
1.5 m
92 mm
22 N
100 mm
100 mm
30 mm
38 mm
SR2.5X4X10
2.5 mm
4 mm
0.75 mm
30 BAR
10 m
6.5 m
564 mm
94 N
0 mm
0 mm
30 mm
38 mm
SR2.5X4X15
2.5 mm
4 mm
0.75 mm
30 BAR
15 m
10 m
593 mm
141 N
0 mm
0 mm
30 mm
38 mm
SR4X6X7.5C
4 mm
6 mm
1 mm
26 BAR
7.5 m
5 m
258 mm
41 N
130 mm
130 mm
50 mm
62 mm
SR4X6X10C
4 mm
6 mm
1 mm
26 BAR
10 m
6.5 m
353 mm
56 N
130 mm
130 mm
50 mm
62 mm
SR4X6X10
4 mm
6 mm
1 mm
26 BAR
10 m
6.5 m
328 mm
52 N
0 mm
0 mm
55 mm
67 mm
SR4X6X12
4 mm
6 mm
1 mm
26 BAR
12 m
8 m
934 mm
148 N
0 mm
0 mm
20 mm
32 mm
SR4X6X15C
4 mm
6 mm
1 mm
26 BAR
15 m
10 m
530 mm
84 N
130 mm
130 mm
50 mm
62 mm
SR4X6X15
4 mm
6 mm
1 mm
26 BAR
15 m
10 m
498 mm
79 N
0 mm
0 mm
55 mm
67 mm
SR4X6X17
4 mm
6 mm
1 mm
26 BAR
17 m
11 m
953 mm
151 N
0 mm
0 mm
30 mm
42 mm
SR4X6X25
4 mm
6 mm
1 mm
26 BAR
25 m
16.5 m
903 mm
143 N
0 mm
0 mm
50 mm
62 mm
SR4X6X30
4 mm
6 mm
1 mm
26 BAR
30 m
19.5 m
991 mm
157 N
0 mm
0 mm
55 mm
67 mm
SR6X8X7.5C
6 mm
8 mm
1 mm
19 BAR
7.5 m
5 m
286 mm
34 N
130 mm
130 mm
60 mm
76 mm
SR6X8X7.5
6 mm
8 mm
1 mm
19 BAR
7.5 m
5 m
261 mm
31 N
0 mm
0 mm
70 mm
86 mm
SR6X8X10C
6 mm
8 mm
1 mm
19 BAR
10 m
6.5 m
387 mm
46 N
130 mm
130 mm
60 mm
76 mm
SR6X8X10
6 mm
8 mm
1 mm
19 BAR
10 m
6.5 m
345 mm
41 N
0 mm
0 mm
70 mm
86 mm
SR6X8X12
6 mm
8 mm
1 mm
19 BAR
12 m
8 m
850 mm
101 N
0 mm
0 mm
30 mm
46 mm
SR6X8X15C
6 mm
8 mm
1 mm
19 BAR
15 m
10 m
581 mm
69 N
130 mm
130 mm
60 mm
76 mm
SR6X8X15
6 mm
8 mm
1 mm
19 BAR
15 m
10 m
522 mm
62 N
0 mm
0 mm
70 mm
86 mm
SR6X8X25
6 mm
8 mm
1 mm
19 BAR
25 m
16.5 m
993 mm
118 N
0 mm
0 mm
60 mm
76 mm
SR6X8X30
6 mm
8 mm
1 mm
19 BAR
30 m
19.5 m
1035 mm
109 N
0 mm
0 mm
70 mm
86 mm
SR6X8X55
6 mm
8 mm
1 mm
19 BAR
55 m
36 m
1069 mm
127 N
0 mm
0 mm
130 mm
146 mm
SR8X10X5
8 mm
10 mm
1 mm
14 BAR
5 m
3.5 m
189 mm
18 N
0 mm
0 mm
80 mm
100 mm
SR8X10X7.5C
8 mm
10 mm
1 mm
14 BAR
7.5 m
5 m
263 mm
25 N
170 mm
170 mm
80 mm
100 mm
SR8X10X10C
8 mm
10 mm
1 mm
14 BAR
10 m
6.5 m
357 mm
34 N
170 mm
170 mm
80 mm
100 mm
SR8X10X10
8 mm
10 mm
1 mm
14 BAR
10 m
6.5 m
336 mm
32 N
0 mm
0 mm
90 mm
110 mm
SR8X10X15C
8 mm
10 mm
1 mm
14 BAR
15 m
10 m
547 mm
52 N
170 mm
170 mm
80 mm
100 mm
SR8X10X15
8 mm
10 mm
1 mm
14 BAR
15 m
10 m
505 mm
48 N
0 mm
0 mm
90 mm
110 mm
SR8X10X25
8 mm
10 mm
1 mm
14 BAR
25 m
16.5 m
936 mm
89 N
0 mm
0 mm
80 mm
100 mm
SR8X10X30
8 mm
10 mm
1 mm
14 BAR
30 m
19.5 m
1010 mm
96 N
0 mm
0 mm
90 mm
110 mm
SR10X12X7.5C
10 mm
12 mm
1 mm
12 BAR
7.5 m
5 m
252 mm
20 N
180 mm
180 mm
100 mm
124 mm
SR10X12X10C
10 mm
12 mm
1 mm
12 BAR
10 m
6.5 m
353 mm
28 N
180 mm
180 mm
100 mm
124 mm
SR10X12X10
10 mm
12 mm
1 mm
12 BAR
10 m
6.5 m
366 mm
29 N
0 mm
0 mm
100 mm
134 mm
SR10X12X15C
10 mm
12 mm
1 mm
12 BAR
15 m
10 m
530 mm
42 N
180 mm
180 mm
100 mm
124 mm
SR10X12X15
10 mm
12 mm
1 mm
12 BAR
15 m
10 m
492 mm
39 N
0 mm
0 mm
110 mm
134 mm
SR10X12X30
10 mm
12 mm
1 mm
12 BAR
30 m
19.5 m
997 mm
79 N
0 mm
0 mm
110 mm
134 mm
SR12X15X15C
12 mm
15 mm
1.5 mm
14 BAR
15 m
10 m
426 mm
27 N
200 mm
200 mm
160 mm
190 mm
SR12X15X30
12 mm
15 mm
1.5 mm
14 BAR
30 m
19.5 m
915 mm
58 N
0 mm
0 mm
150 mm
180 mm
SR14X18X30
14 mm
18 mm
2 mm
16 BAR
30 m
19.5 m
1023 mm
54 N
0 mm
0 mm
160 mm
196 mm
SR15X18X30
15 mm
18 mm
1.5 mm
12 BAR
30 m
19.5 m
1023 mm
54 N
0 mm